Live-streaming Quizzes for Money Become New Sensation; Analysts See Potential for Momo
Momo just released its version of short-video quizzes in the hope that this feature could attract new traffic.
Selina Cheng
Jan 23, 2018 11:29 AM WST
Live streaming has been one of China's most profitable industries, featuring young women who sing, dance, and sometimes even eat chicken wings for strangers. But now, there is a new senation - the live-streaming quiz.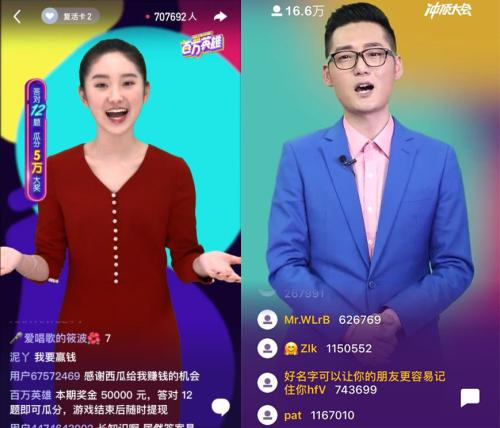 Momo Inc. (Nasdaq: MOMO) just released its short-video quizzes in the hope that this feature would attract new traffic. Additionally, the shows could attract sponsors, potentially bringing millions of advertising revenue to the platform.
"It was not only the prize that was attractive, but also the thrill that I still could remember what I learned back at high school 20 years ago," a 35-year-old media worker told China Daily, adding she was awarded RMB 22 ($3.43) in total for being among winners twice.
In response to the trend, Sophie Huang, analyst of CMB International, issued a "buy" rating with a $38.20 per-share target price for Momo, suggesting a 33-percent increase from today's closing price of $28.71.
"We keep positive on Momo's unique sociality and content offering, but it still took time to enhance user growth mechanism," Huang wrote in a note released today. "We are positive on its fourth quarter financials thanks to its monthly active users (MAU) trend and annual festival performance, but we turned more cautious of first quarter in 2018 due to weak seasonality."
The live-stream quiz phenomenon began Jan. 3 when Wang Sicong, an online celebrity and son of the richest man in China, Wang Jianlin, announced a prize on a quiz app called Chongdingdahui. In the live-streaming show, a host - often a household celebrity - presents questions, waiting until participants give their answers through an app. The platform offers prizes between RMB 100,000 and RMB 5 million for each quiz of 12 questions. Participants who give all the correct answers split the jackpot.
Driven by its interactivity, prize money, and celebrity effect, some apps have attracted more than 300 million participants in less than two weeks. Chongdingdahui reached 1.5 million users in just one week after launch.
Beijing-based Momo, whose application uses the location of users to connect them with nearby friends and strangers, said net income for the three months ended Sept. 30 reached $79.1 million, or 38 cents per ADS, compared with $39 million, or 19 cents, in 2016. Revenue soared 126 percent to $354.5 million in the three months.