ZTO Trades 5% Higher on Quarterly Results
The delivery network posted improved revenue and income for the first quarter, sending its shares higher intraday.
Anna Vodopyanova
May 16, 2019 9:15 AM WST
The stock of ZTO Express (Cayman) Inc. (NYSE: ZTO) was trading up 5 percent by noon Thursday, at $19.77 per American depositary share, after beating analysts' estimates on revenue for the first quarter.
The Shanghai-based company, a delivery network backed by China's giant Alibaba Group Holding Ltd. (NYSE: BABA), said in a statement after markets closed Wednesday that its revenue for the three months through March reached $681.6 million, at an increase of 29 percent year-over-year.
Net income, it said, was $101.6 million, or 13 per share, up 22 percent from the same period a year ago.
The founder, chairman, and chief executive officer of ZTO, Meisong Lai, said in the report that the company has increased its market share in China's delivery industry during the quarter, gaining 2.5 percentage points to 18.6 percent.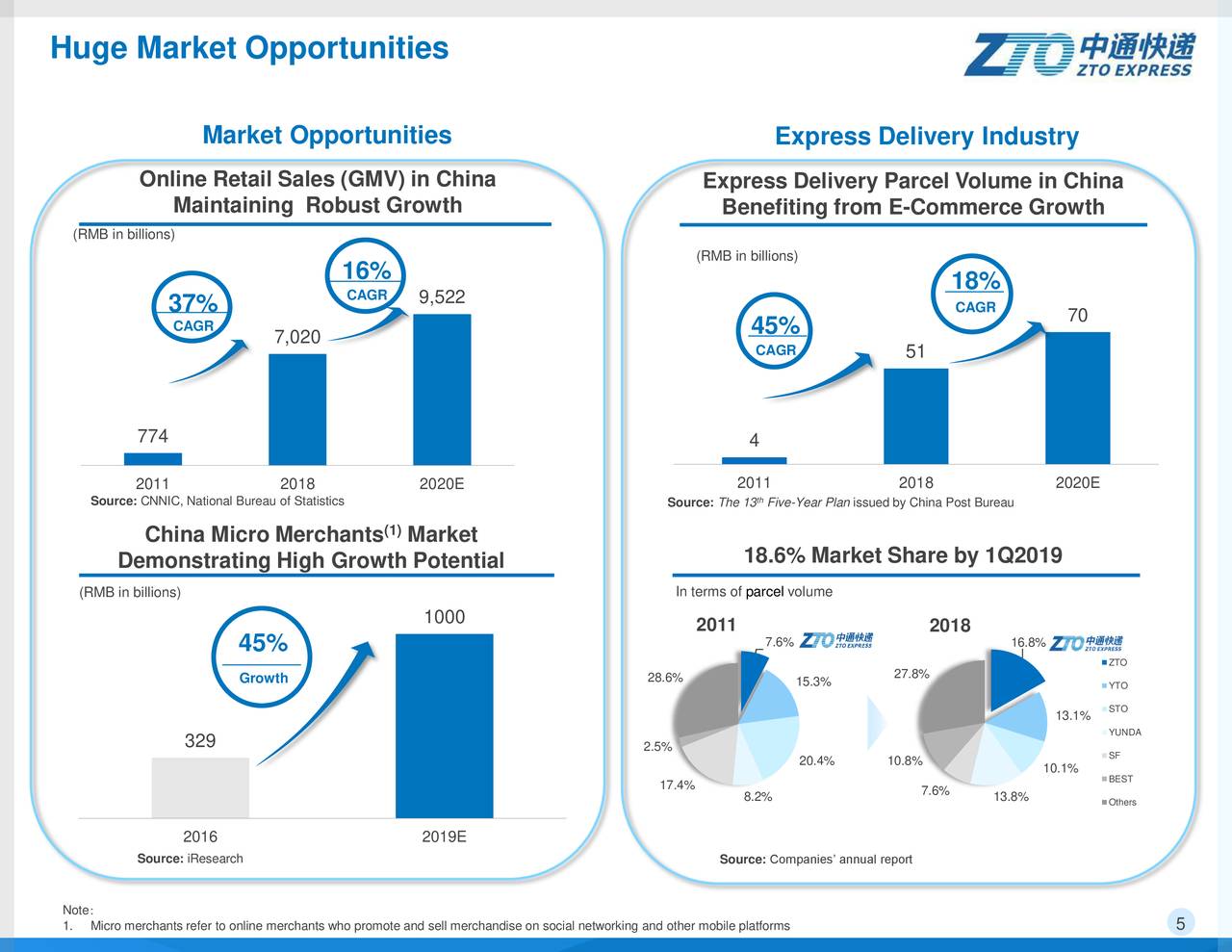 He added, "Our newly implemented volume-incentive metrics were effective in providing confidence and meaningful support to our network partners who faced intensifying competitions in regions with concentrated originating e-commerce volume as well as in those previously less penetrated markets."
Lai also said, "Our continued efforts to standardize pickup and delivery fees are paving the way to increase couriers' wages and enhance profitability of our network partners. "
ZTO reported a 42 percent year-over-year rise in parcel volume to 2.3 billion. As of March 31, it had 29,800 pickup/delivery outlets across China and 4,500 direct network partners. It had 5,700 line-haul vehicles and 4,850 self-owned trucks by the end of the first quarter, according to the statement.
Operating expenses in the company were $83.1 million, up 34 percent from a year ago, it said.
Looking forward, ZTO said it expects to deliver between 11.5 billion and 11.9 billion of parcels this year, representing an increase of between 35 and 40 percent from 2018.